TILED STOVES
WARMTH AND COMFORT OF HOME
---
Tiled stoves by HERITAGE are the work of ceramics enthusiasts. The cooperation of craftsmen and artists brought the effects of extraordinary beauty.
The proven heating technology is a source of heat that lasts longer. Our tiled stoves are cumulative tiled stoves that operate in a very simple way.
An oven made of chamotte tiles gives off energy accumulated in itself, radiating heat many hours after the flame has gone out. The heat emitted by chamotte tiles is comparable to solar radiation, which has a very positive effect on human mood and well-being.
ECOLOGICAL FURNACE
---
THEY CREATE AN OPPORTUNITY TO IMPLEMENT A VARIETY OF DECORATIVE AND ARCHITECTURAL SOLUTIONS
In our tiled stoves, we used air furnaces for the after-burning of gasses, thanks to which the furnace efficiency reaches 90%. Clean ecological combustion is an expression of care for the natural environment.
The furnaces are grate-free, deep, thanks to which, after loading them with wood, we ignite them from above, which promotes economic and clean combustion, and the fire is clearly visible from the beginning of burning. High combustion temperature means that a small amount of dust and ash remains after burning. There is not much cleaning, and the stove door glass remains clean for a long time.
BEAUTY IN SIMPLICITY AND VALUES INHERITED FROM OUR ANCESTORS, HANDED DOWN FROM GENERATION TO GENERATION, WILL ALWAYS FIND THEIR PLACE IN HOMES THAT CHERISH TRADITION.
---
Unique free-standing Heritage stoves are realisations of universal values. Simple is beautiful and will survive everything, so we have made sure that our stoves are easy to install in every interior. We offer four basic types of stoves, with full service included: from consulting, to design, assembly and initial start-up, to training in the correct method of firing the ceramic wood stove.
Victoria

Arcadia

Victoria Grand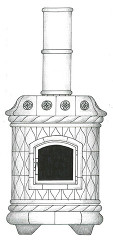 Technical specification
Item
name
Weight
[kg]
Dimensions HxWxD
[cm]
Wood load
[kg]
Accumulated heat up to
[kWh]
Heating capacity for 12 hours
[kW]
Optimum capacity for a space of
[m2]
Victoria
200
100x73x52
3-5
20
2
35-45
Flavia
200
108x73x73
3-5
20
2
35-45
Nikolas
300
126x68x68
3,5-6
23
2
45-50
Victoria Grand
500
135x99x60
3,5-7,5
26
2,2
50-60